Learn how to change your business model to circular and secure your financial future.
The global economy by 2050 could benefit from more effective resource use by USD 2 trillion a year. (UNEP, 2017)
The Ellen MacArthur Foundation calculated that in the EU, in the sectors of complex medium-lived products (such as mobile phones and washing machines), the annual net-material cost savings opportunity mounts up to USD 630 billion.
Let's untap this potential!
Climate related risks, opportunity costs and lost value
The 2019 chip shortage – directly related to droughts (and the climate crisis) and political friction forced industries from all sectors to stop production. It was a forecast of how mismanagement of resources can impact entire supply chains causing loss in revenue and increasing shadow prices. But there are more financial risks – and benefits – related to the Circular Economy:
Investors are searching for sustainable investments. With the EU sustainable finance taxonomy being installed and ESG benchmark criterias being inforced in more and more sectors, any economic activity will be measured against its environmental, social, and governance impact. It's the best time for circular investments and fund-raising.
Circular solutions offer new profit opportunities. iFixit – providing repair manuals and kits is growing 30 percent year over year and topped $21 million in sales in 2016. Without having an own product, the service platform profits from the often not existing repair services for electronic products and a growing customer awareness and willingness to maintain products.
Circular supply chains reduce volatility, opportunity costs and loss of value. Untapping new – circular – sources for components and materials, companies can reduce their risks of volatile raw material prices and become independent from supply chains disrupted by natural desasters or political friction.
Sustainable industries are the fastest growing market. Unilever reveals that its most sustainable brands grew 46% faster than the rest of the business and delivered 70% of its turnover growth.
Circular business models by design
Consumers demand for more sustainable products and transparency about the environmental footprint, investors and regulations require companies to take environmental and social responsibilty, adapt their corporate governance and constantly measure and prove their impact.
Consumption patterns, technological progress and data availability put companies under the pressure to adapt and re-invent themselves.
Our strategic design methods adapted to circular principles support organisations to identify their opportunities within the changing environment and pro-actively turn demands into strategic advantages.
Pitch
You want to learn more about why design is so crucial to transform our economy to circular or you want to convince others? We created a pitch deck that you can adapt to tell your compelling story for successful circular design.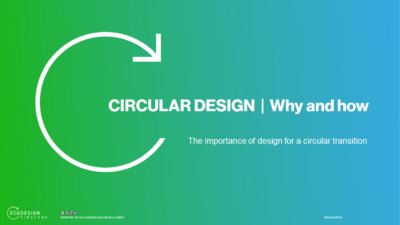 Explore the tools to innovate circular business and revenue models
You need help changing your business model to circular?