… and circular design
Experts estimate that 80 % of a product's footprint and its environmental impact throughout the life cycle are determined during the design phase.
Circular design is not only about reducing emissions, in its cross-disciplinary function circular design can unveal new dimensions of sustainable business by exploiting underlying needs and behavioural patterns and creativly translate environmental and social responsibilities into profitable business opportunities.
Designing for a circular economy
Ecodesign vs Circular design
Ecodesign in its original definition is any form of design that minimizes environmentally destructive impacts of products and services. It is often linked to the design of products, material choices and the "after use phase" options.
Circular design relates directly to the concept of circular economies where economical growth is decoupled from the use of resources and resources are kept in a constant flow at their highest potential. Ecodesign therefore can be seen as one approach within circular design where the latter is a broader concept, applying design methods on entire product-service-systems and strategic business decisions for sustainable and circular business models.
The next big thing in design is circular
In the circular economy we need to re-invent how products are designed, manufactured, used, sold, refurbished and recycled.
The design herein plays a crucial role at various levels and phases:
products need to be designed for upgradeability, repairability and new specifications related to sharing or other service based business models
service design in its ability to translate business operations into interaction will not only be key on whether these servitised offers are accepted, feel comfortable or fulfil the user needs. By allowing mutual exchange of information and data, they can significantly increase the sustainable usage, support reverse insights to increase sustainable performance or inform about "end of use" options.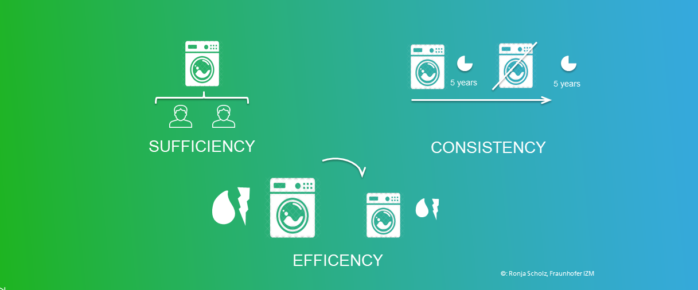 A totally new dimension of sustainability
In circular product-service-systems we will reconsider not only how we handle products or resources but also information and data. Enabled through technologies and digital communication, servitised business models unveil entire new dimensions of sustainability – using resources effectively rather than only efficiently. The ways we design our partner networks, operations and interactions will be essential for the success of these new business. Whether B2B or B2C – organisations that offer other services to improve their sustainability performance are the next business unicorns. And all these services and interactions need to be designed to flawlessly close the loops in the Circular Economy.
How is circular design beneficial for your organization or business? Read our cases:
The aim of the Ecodesign Circle is to strengthen awareness and practical application of the "design approach" to circular economy. Since 2016 an international team of design centres, public authorities, research institutions and design practitioners across the Baltic Sea Region has been working together to research best practises and develop tools, methods and communication strategies for designers, eco-experts and every organisation or individual dedicate to make a change by design.
Coordinated by design centres in various countries, a network of experts from design and environmental sciences are already implementing and promoting the tools and workshop formats. These offers aim to strengthen the circular design competencies amongst designers and environmental experts on the one side and make circular design accessible for organisations who search a way to transition to more circular business practises and act responsibly to ensure their future as well as the future of generations to come.
The project and its extension was funded by the Interreg Baltic Sea Region programme and co-financed by funds from the European Regional Development Fund, the European Neighbourhood Instrument and the Russian Federation. The Lead Partner was the German Environment Agency.